One of the big reasons I wanted to start this blog was to share things that inspire me and to find new inspiration! So even if you're not into art, this series will be about all sorts of inspiring people or things! So keep reading, even if its not your thing, and you might be surprised. Also id love to hear what or who is inspiring as I do this series!
Lately a big theme i've noticed is that the people who have really been inspiring me lately are all women! I don't really consider myself to be a feminist, (whether its right or wrong, but I find the term to be too exclusive rather than inclusive, AND I know too many amazing men to claim that this label is something that really defines me), but the amount of strength and energy I get from learning from other women is so invigorating! So this series might lean heavily female, but I won't leave out the men intentionally, because guess what inspiration is everywhere!!!
--
In school I did a great job of making sure i was enjoying every moment of my social life, but my Art History classes were the ones that I would show up early for, study my butt off for, and soak in every word that came out of my professors mouths during lectures. Im a huge history buff because I love listening to peoples' stories. I love putting myself into their lives and thinking about how they lived their days, big and small. But art history took my interest in history to a whole other level. it was not only the story about the work of art itself, but it was the technique of how it was created, it was the why it was created or for who, what or who was inspiring them, the era of art it was created in, the medium that was used and its development, the historical context, the story of the artist and their life, and the list goes on and on! The details about one work of art are as often as rich and layered as the piece itself.
This year I made it a goal to start reading more and for the first time in years I decided to walk across the street and check out my local library (its become my new favorite place!) and I came across a book called Independent Spirits: Women Painters of the American West. As I started reading about this very specific subset of women artists it made me wonder about all the other women artists that had slipped through the cracks of my art history education and the history books at that. Sure there was a page about Cindy Sherman, Georgia O'Keefe, Frida Kahlo, and talk of Mary Cassatt, but in classes, books, museums, and popular culture women artists are eclipsed by their male counterparts and its almost always just due to the role women played in society at the time, rather than their talent or actual capabilities. I'm not done pouring over every word in this massive book, but a few artists that I've found really interesting so far are these women:
Dorr Bothwell (1902-2000)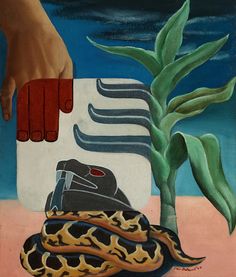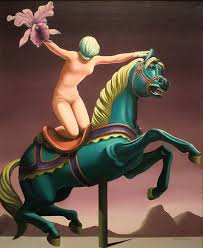 Dorr Bothwell was one of San Fransico's most prominent practitioners of Surrealism, although she denied being a Surrealist, "rejecting the basic surrealist premise that a woman plays a servile role to man, that she completes man, she is only brought to life by him, and she serves as his muse." She explored her inner self in her art, through the juxtaposition of figures and objects different in scale and seemingly unrelated. A fun-loving person, Bothwell often infused her imagery with an element of whimsy. She also painted numerous self portraits drawn from private dreams and fantasies.
Bothwell was born in San Fransisco, spent much of her childhood in San Diego and lived in Los Angeles and San Fransisco for most of her adult life. She loved to travel and spent a year and a half living with the Samoans after being captivated by the film Moana (I haven't seen Disney's, but I wonder if they are based on the same premise?! I couldn't find any info connecting the two..). During that time she painted a group of small canvases of samoan villages painted with hot tones in a flat, highly simplified manner, which was sent back for an exhibition of her first serious work.
She was married to the sculptor, Donal Hord, for a short period of time, because it was not one of complete equality. Hord would not share the household chores, even though he realized that time for creative work was as precious to her as it was to him. [1] (So important, isn't it!?) "Bothwell moved to Los Angeles in 1934, where she learned the art of screen printing, which would become her favored graphic technique. During her career she worked in various styles from figurative to abstraction and created oil paintings, watercolors, sculptures and assemblages. In addition to her professional art career, Dorr was an author and a gifted teacher who taught serigraphy, color theory and design at institutions such as the California School of Fine Art, Parsons School of Design and the San Francisco Art Institute. She passed away at the age of 98 on September 24, 2000." [2]
*please forgive my poor referencing skills, but since this is a blog and not a paper, i'm just going to tell you that a lot of this info I took directly from these sources: [1] Independent Spirits: Women Painters of the American West & [2] Women Out West
Evelyn McCormick (1862-1948)
Evelyn McCormick and an impressive group of artists flocked to the Monterey area at the turn of the century. With its beautiful landscapes and welcoming attitudes towards women, this area quickly became a haven for artists like McCormick. "Although they all viewed the same scenes daily, there is a remarkable diversity of style in their work. What stands out is their strong individuality and commitment to creativity" [1] McCormick also spent time in France and was greatly influenced by Monet, Pissarro, Seurat and other French Impressionists of the time.[2] One of my favorite things about her (and like most impressionist work) is her attention to the light of a certain moment. To capture how that moment looked with the light pouring over the adobe houses, but also how it felt. I look at her work and you can almost feel the cool ocean air, smell the salt water, and hear the birds flying overhead.
*again please forgive my referencing skills: Independent Spirits: Women Painters of the American West & these sites about her [1] & [2]
Kathleen Blackshear (1897-1988)
Kathleen Blackshear was an American Modernist artist known for her sensitive depictions of African-American subjects.[1] She grew up in Texas and spent her childhood on cotton plantations, becoming friends with the children of the workers. I really resonated with her and found that like her, our experiences of who we spend time with as children, influence us as adults. When we are exposed to people or situations that are different than us, we have a bigger understanding of what it means to be human. Influenced by various strains of Modernism including Post-Impressionism and Cubism, Blackshear developed a range of styles with bold, simplified forms and rhythmic or patterned elements often featuring strong diagonals and tilted planes.[2] In her best works, Blackshear captures her subjects with simple grace and humanity without sentimentality or cliche. [1] I also enjoyed learning about her and her move to Chicago, where from 1926-1961 she taught art history and studio courses at the School of the Art Institute of Chicago.
*again please forgive my referencing skills: [1] & Independent Spirits: Women Painters of the American West
As I started doing more digging into other women artists who may have been overlooked, i came across this page from the Tate Modern that gave a simple practical approach to changing the information that's out there about women artists. Tell their stories on Wikipedia!! Genius, because honestly its usually the first place we go to for information in our modern digital age. They gave practical and detailed instructions on how to help with this effort and I especially loved getting lost down the rabbit hole of this list of comprehensive worklist of women artists who have been identified as needing work! They also did a symposium exploring diversity in the art world and the future of curation. In their own words:
"Our goal has been and continues to be the same – to shine a light on all the women the mainstream media doesn't. Women who with their creativity and talent challenge the norm, break stereotypes and set the example every single day by doing what they believe in, unyieldingly. Strong, unapologetic and wild. Through this network of women that inspire us every day we understood that community spirit is the force that will help women artists claim their space and their place, continuously. We are proud to work alongside a growing group of diverse female creatives not only to celebrate and champion their work but most importantly to honour their perseverance."

 
So hopefully more and more books like this are published, more wikipedia links are written, more museum walls are better represented, more blog posts are written, and we can accurately honor the women who were creating all along, although their names might not have been known! So here's to being inspired by the known, the unknown, the male, the female, and everything in between!